Jag har recenserat Dave Eggers googlekritiska roman The circle för GP.
The Circle är det enda internetföretag du behöver ha att göra med. De är sökmotor, socialt nätverk och sköter dessutom alla nätbetalningar. Romanen är lika träigt övertydlig som svensk TV-dramatik, men på sidan 175 får man äntligen ana järngreppet inuti företagets silkesvante. Där börjar en alldeles utmärkt scen …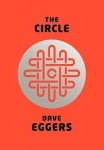 The Circle mäter och rankar allting. Annonskunderna som huvudpersonen Mae pratar med betygsätter henne. Högsta betyg är 100. Om hon skulle få 98 bör hon höra av sig till kunden och fråga hur hon kan förbättra sitt resultat. (Förlåt, säger en av de första kunderna, jag menade förstås 100.) Bakom företaget finns en idé om perfektion som aldrig ifrågasätts. Man kunde kalla det för den kaliforniska ideologin: allting ska vara "great". Hur mår du i dag? Great! Så fort någonting inte är "great" uppfattas det som ett problem. Värre än så: det uppfattas som ett lösbart problem.
Läs hela artikeln i GP. (Nu fungerar länken.)
Tillägg: Facebook har 1,3 miljarder användare, det vill säga om Facebook var ett land skulle dess befolkning ligga någonstans mellan Indien och Kina. Nu vill Facebook ha …  en egen armé? Nej, men en egen valuta.