Varje gång tidningsbranschens problem diskuteras brukar någon säga: "Vore inte mikrobetalningar en bra idé?" Holländska Blendle.com har gjort allvar av idén. Ingen trodde att de skulle överleva, skriver grundaren Alexander Klöpping på sajten Medium.com, men efter ett drygt år är de uppe i 350 000 registrerade användare och har just expanderat till Tyskland.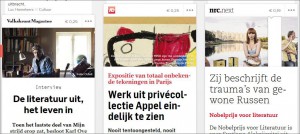 Genom Blendle kommer man åt betalartiklar utan reklam och utan ytterligare inloggningar. Urvalet omfattar ett nittiotal tyska och holländska tidningar och tidskrifter, inklusive tungviktare som Die Zeit, samt ett par engelskspråkiga storsäljare som The Economist och The Wall Street Journal. Snart ingår också New York Times. Enstaka artiklar kostar mellan 0,15 och 0,89 euro. Är du inte nöjd med en artikel får du till och med pengarna tillbaka.
Blendle utgör en tredje väg mellan klickjagande gratismaterial och allt strängare betalväggar. Sajten har inte stulit prenumeranter från tidningarna, hävdar Klöpping. Istället har nya läsare tillkommit: en ung publik, som tidigare inte betalade för sin tidningsläsning. Om Blendle går med vinst framgår dock inte.
Våra läsare bestraffar klickjournalistik, skriver Klöpping i sin sammanfattning av det första årets erfarenheter. Att räkna klick är värdelöst – många läser aldrig det de klickar på. Vad folk betalar för – och inte minst vad som får dem att kräva pengarna tillbaka – ger bättre kunskap om deras preferenser. Hälften av skvallertexterna leder till återbetalning, mot 5 procent i vanliga fall.
Bäst av allt är att sajten utgör ett alternativ till det senaste modet i tidningsbranschen: "branded content". När allt fler läsare installerar appar som blockerar annonser har tidningarna svarat med att blanda in sponsrade texter – mer eller mindre tydligt markerade – i sitt redaktionella innehåll.
Det jag saknar när jag testar Blendle är en smidig möjlighet att spara betalda texter, samt de avancerade sökfunktioner som sajtens stora artikelarkiv förtjänar. Klöpping vill i framtiden lansera Blendle i fler länder, men inga detaljer är klara.
Publicerad i Göteborgs-Posten 4 oktober 2015.