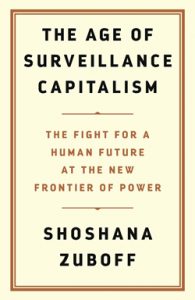 Välkommen till övervakningskapitalismen! Det handlar inte bara om internet och mobiltelefoner – även din bil, dina barns leksaker och din robotdammsugare sysslar med övervakning och datainsamling. Den uppkopplade robotdammsugaren Roomba kartlade folks lägenheter medan den städade.
Digitalisering är en midasberöring. Så fort du snuddar vid digital information blir ditt företag ett informationsföretag, och informationsbearbetning är lika med övervakning. Digitaliseringen förvandlar varje företag till en underrättelsetjänst. Det finns ingen principiell skillnad mellan en underrättelsetjänst som NSA och digitala jättar som Google, Facebook, Spotify och Amazon. Samtliga sysslar med att samla in data, ju mer desto bättre, och med att analysera människors beteenden i jakt på signaler och mönster som de kan utnyttja. Det är möjligt att man i framtiden kommer att fråga sig varför vi envisades med att skilja på nätföretag och underrättelsetjänster.
Denna effektiva förening av reklam, digitalisering och underrättelsemetoder har Shoshana Zuboff (socialpsykolog och professor emerita vid Harvard) kallat "surveillance capitalism" – övervakningskapitalism. Med sin bok The age of surveillance capitalism (Public Affairs) vill hon få oss att inse vilket slags samhälle det ger oss.
Min understreckare om The age of surveillance capitalism kan läsas här.