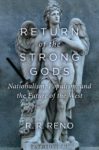 De värderingar som har dominerat efter 1945 är sådant som att svag är bättre än stark, öppen bättre än stängd och spontan bättre än auktoritär, skriver R. R. Reno i sin bok Return of the strong gods. Första halvan av 1900-talet var "a world-historical eruption of evils" som kulminerade i förintelsen. För att förhindra att något liknande upprepas har vi ägnat oss åt "the relentless pursuit of openness, disenchantment and weakening." Vad det här har gett oss, menar Reno, är en offentlighet som är upptagen med att göra rätt saker för att besegra Hitler 90 år för sent, vilket gör att den inte är särskilt väl lämpad för att hantera sina egna kriser och problem.
Att grunda ett samhälle enbart på negativa ideal (vad vi är emot, vad vi inte är) håller inte i längden enligt Reno. Vi behöver något mer – med hans ord behöver vi "starka gudar". Vilka är "de starka gudarna"? Reno skyndar sig att förklara att han inte syftar på Tor och de andra asarna i Valhall. "The strong gods" är "whatever has the power to inspire love". Med andra ord allt som kan utgöra grunden till en samhällelig gemenskap, och som andra författare brukar kalla ideologier eller ideal. Familj, nation och sanning är några av Renos egna exempel. Se upp när du personifierar abstrakta begrepp, skulle jag vilja invända. Du vinner ingenting i klarhet, snarare blir det som när Jordan Peterson börjar prata om drakar och häxor. Begreppen kan snart få mer eget liv än du har blåst in i dem. De kan komma tillbaka och bita dig i häcken.
Även om man håller med Reno om att varje samhälle behöver någon sorts "gudar" eller ideal står man inför ett problem: vi kan inte själva konstruera de gudar vi behöver. Ska vi bli övertygade av dem måste de drabba oss som om de kom utifrån, av egen kraft. Vi kan inte tro på – eller bli räddade av – en kanin som vi drar ur hatten om vi har sett oss själva stoppa in kaninen med vänster hand ett ögonblick tidigare.
Jag skriver om Return of the strong gods i Axess nr 6/2020.