Det är alltid en lättnad att riva upp en text. Istället för att skriva en artikel där jag tycker saker tog jag hjälp av World Values Survey för att se vart världen verkligen är på väg. Stämmer den ofta upprepade tesen om religionernas återkomst? Vilka långsiktiga trender kan avläsas? Fortsätter världen att bli mer modern eller har de senaste århundradenas moderniseringsvåg avstannat? Är vi på väg mot en "clash of civilisations"?
Om detta har jag skrivit en understreckare i SvD: En värld som går framåt hotas mest av orättvisor
World Values Survey har gjort globala opinionsundersökningar sedan 1981. De studerar människors attityder till familj, arbete, fritid med mera. Antalet deltagande länder har växt; WVS omfattar nu 100 nationer med 90 procent av världens befolkning. Du känner säkert igen deras fyrfältsdiagram med Sverige längst uppe i det högra hörnet, där de mest sekulära och individualistiska länderna samlas. Länderna står inte stilla på kartan: det gör att man kan studera hur hela mänsklighetens värderingar förändras över tid. Utvecklingen mot ännu mer individualistiska värderingar fortsätter på många håll: WVS har behövt förlänga diagrammet så att Sverige och de övriga nordiska länderna inte skulle hamna utanför kartan.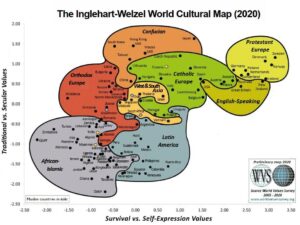 Det verkligt intressanta med WVS är inte ländernas placering i fyrfältsdiagrammet utan de slutsatser som låter sig dras om mänskligt beteende. Är tillvaron hård blir människan ännu hårdare mot sig själv. I det läget dras människor till auktoritära ledare och normer som bestraffar avvikande beteende. Och omvänt: tolerans, individuell frihet och demokratiska värderingar kräver en grundläggande materiell trygghet. Det är tesen i Ronald Ingleharts bok Cultural evolution, som jag har använt mig av. Inglehart är professor i statsvetenskap vid University of Michigan och en av WVS:s grundare.
 Sverige deltar i WVS genom Institutet för framtidsstudier, som har genomfört en undersökning (Migrant WVS) om hur invandrares värderingar har förändrats efter flytten till Sverige.