.
Journalisten Vladislav Davidzon flyttade från New Yorks emigrantkvarter "Little Odessa" till det riktiga Odessa och startade Ukrainas ledande kulturtidskrift, som fick namnet The Odessa Review. Davidzon har nu samlat ett urval artiklar i sin bok From Odessa with love; jag har läst den för kultursajten Dixikon.
.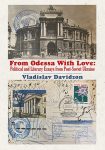 Med Rysslands annektering av Krim har politiken gått in i postsanningens epok, skriver propagandaspecialisten Peter Pomerantsev i sitt förord. Putin förklarade att han inte har någonting med invasionen att göra, vilket, enligt Pomerantsev, inte innebär att Putin förnekar fakta, utan att han förnekar att fakta överhuvudtaget spelar någon roll. Så bedriver man krig och politik idag. Syftet med den propaganda som sprids på nätet är inte att människor ska tro på den, utan att göra människor så cyniska, blaserade och osäkra att de inte tror på någonting alls – framför allt inte på de värderingar som utgör ryggraden i ett icke-korrupt samhälle.
I det läget behövs en kulturtidskrift. En bra tidskrift kommer att ha en läkande och återställande verkan, eftersom den är en plats där orden på nytt betyder vad de betyder.
The Odessa Review upphörde 2018, men tidskriften kan fortfarande läsas på nätet.