Mänskl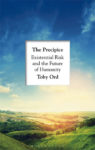 igheten har kommit så långt att vi inte längre behöver oroa oss för att naturen ska utrota oss. Vi kan göra det själva.
Etikfilosofen Toby Ord vill ge oss en klar bild av de risker som hotar mänsklighetens överlevnad, "so that we will make the choices necessary to safeguard our future". I sin bok The precipice går han igenom allt som skulle kunna sätta punkt för mänsklighetens historia: stora asteroidnedslag, gammablixtar från kolliderande neutronstjärnor, klimatförändringar, supervulkaner, genteknik, urspårad artificiell intelligens. Ett 70-tal specialister på allt från biologi till ekonomi har hjälpt honom under arbetet. Kärnvapnen är det knappt någon som oroar sig för längre, men det finns fortfarande 7 000 aktiva stridsspetsar i världen, påminner Ord; fullt tillräckligt för ett avskedsfyrverkeri.
När han har summerat alla risker kommer han fram till att sannolikheten för att mänskligheten går under de närmaste 100 åren är en på sex – lika stor som om vi spelade rysk roulette med en kula i revolvern. De hot han bedömer som allvarligast är de som beror på oss själva, och som vi själva kan förhindra. Svårigheten, skriver han, är den växande klyftan mellan vår teknologiska makt och vår mentala mognad. Det är inte vilken rysk roulette som helst: det är ett gäng barn som leker med revolvern.
Trots allt blir jag snarast mindre orolig för framtiden av att läsa Toby Ord. Han erbjuder de kalla siffrornas tröst. Jag recenserar The precipice i senaste numret av tidskriften Axess .