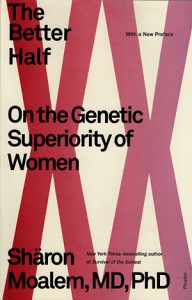 Vid förra sekelskiftet ansågs män vara biologiskt överlägsna; idag är det inte förvånande att det kommer en bok med titeln The better half: On the genetic superiority of women.  "Nästan allting som är svårt i livet, biologiskt sett, från överlevnad till fosterutveckling, görs bättre av kvinnor", skriver Shäron Moalem. Han är läkare, forskar på neurogenetiska sjukdomar, och har ett tjugotal bioteknologiska patent på sin meritlista.
Alla de ovanstående fördelarna beror, enligt Moalem, på att kvinnan har två X-kromosomer. X-kromosomens gener har en mängd olika uppgifter, som inte bara har att göra med personens kön. Det väsentliga är att kvinnor har två olika X-kromosomer: en från moderns äggcell och en från faderns spermie.  Kvinnor har med andra ord en backup-kopia av X-kromosomen, en backup som inte är identisk.
Män har bara en X-kromosom, ärvd från modern, likadan i alla celler. Skulle den vara skadad eller bära på dåliga anlag är det kört. På X-kromosomen finns omkring hundra gener som är kopplade till olika intellektuella handikapp. Därför har män dubbelt så stor risk att få autism, ADHD, inlärningssvårigheter eller andra former av utvecklingsstörningar. På X-kromosomen sitter också tumörsuppressorgener, som minskar risken för cancer. Män har 20 procents större risk att få cancer och 40 procents större risk att dö i cancer; kvinnor har ett naturligt cancerskydd som män saknar.
Jag recenserar boken i det senaste numret av tidskriften Axess.