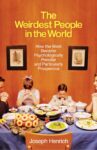 Europa har präglats av kristendomen på ett helt annat sätt än vi tror, menar Joseph Henrich, professor i evolutionsbiologi vid Harvard. Från 400-talet och framåt bröt kyrkan ner klansamhället och gjorde européerna till individualister. Allt som sedan hände följer av det: vetenskap, rättsväsende, demokrati och så småningom sekularisering …

Henrichs 680-sidiga bok The weirdest people in the world är en fascinerande genomgång av mänskligt beteende överallt på planeten, från Nya Guinea till Europa, den underligaste kontinenten av alla. Hans poäng är inte att européer är bättre än andra, men han vill förklara varför Europas utveckling kom att skilja sig så mycket från andra samhällen. Förklaringen, menar han, ligger i kyrkans regler för äktenskap, som avskaffade klansamhällets traditioner. När man beskriver Europas historia brukar man hänvisa till renässansen, reformationen och upplysningen, men när de inträffar har Europa varit inne på en avvikande kurs i över tusen år.
"Om du inte visste att våra religioner, äktenskap och familjer är så konstiga är det dags att spänna fast säkerhetsbältet", skriver Henrich. Ett utdrag ur boken
kan läsas här
.
_____