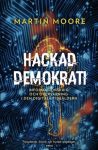 "År 2016 borde ha varit en väckarklocka för oss", skriver Martin Moore i "Hackad demokrati". Han räknar upp en rad valresultat – Brexit, Trump, Duerte i Filippinerna, Modi i Indien, Macri i Argentina – och lägger sedan fram sin tes. Dessa valresultat bör inte ses "som anomalier utan som förlagor för det som komma skall."
Moore, som leder The centre for the study of media, communication and power vid King's College i London, menar att de senaste årens manipulativa och aggressiva nätkampanjer visar vad vi kan vänta oss på politikens område. Varje val är nu ett informationskrig som främmande länder kan blanda sig i, ett krig där sanningen är irrelevant. Jag delar Moores oro, men är tveksam till den populära trenden att betrakta den globala högerpopulistiska vågen som ett tekniskt problem. Om memer och sociala medier styr opinionen borde det vara lika lätt att få väljarna att rösta grönt som att rösta brunt. Politik behöver historia, ekonomi och psykologi för att bli begriplig.
Jag recenserar Martin Moores Hackad demokrati i SvD.
Boken tar också upp den inflytelserike Stewart Brand, som länkade ihop 60-talets alternativkultur med det tidiga internet. Datorn och internet fick sin form i en miljö som var en kreativ soppa av motkultur och nördigt ingenjörstänkande, men det utopiska gröna vågen-tänket övergick förunderligt lätt i senare årtiondens nyliberalism och cyberfundamentalism – se min understreckare Kaliforniska hippier befriade datorn (2016).
_____
Det är populärt att definiera populismvågen som ett tekniskt problem: "det är algoritmernas fel". Det leder till att den lösning vi uppmanas att önska oss ser ut så här: för att förhindra extremism och konspirationsteorier måste Youtube programmera sina algoritmer lite annorlunda. Det betyder i praktiken att Youtube borde programmera oss lite annorlunda, så att vi inte börjar hysa fel åsikter. Förklara den idén för Karin Boye, George Orwell eller Aldous Huxley och gissa sedan hur de skulle reagera, skrev jag tidigare i SvD: Hur ska nätjättarna kunna hantera sin makt?