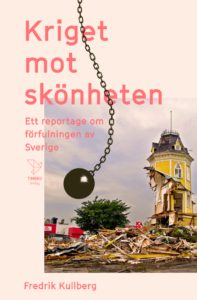 Visa det gamla Centralposthuset i Stockholm och en valfri tunnelbanestation med rå betong och nätstängsel för framtida historiker och fråga dem när de tror att Sverige var fattigast – 1903 eller 1963. De kommer att gissa rätt. Fattigdom mäts inte bara i BNP.
Varför är svensk stadsbyggnad så förbannat ful? Jag skriver om Fredrik Kullbergs nya bok Kriget mot skönheten i tidskriften Respons.
Tro inte att rivningarna har upphört. Mellan 2005 och 2015 försvann mer än hundra K-märkta hus i Stockholm, skriver Kullberg. "Det rivs idag, upplever jag det som, fler kulturhistoriskt intressanta byggnader än under 1960-talets centrumsaneringar", säger Peter Sörensen, Svenska byggnadsvårdsföreningens länsombud i Värmland.
_____
Bonuslänk: Om du bara ska se ett TED Talk ska du se ett som drivs av ilska, inte av en önskan att framstå som välanpassat smart. James Howard Kunstlers föredrag "The ghastly tragedy of the suburbs" är en 19 minuters utskällning som får dig att förstå dålig arkitektur på ett nytt sätt. Amerikanska städer omges av "ett asteroidbälte av arkitektoniska sopor", säger Kunstler. Summan av alla sådana städer blir ett land som det inte är värt att bry sig om. Botemedlet mot dålig stadsplanering är inte att placera ut litet grönska i en betonglåda, som ett plåster på såren – botemedlet är bra stadsplanering. Hur man bygger städer som får människor att trivas är inget mysterium.