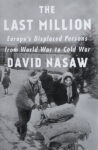 Det är märkligt att 14 miljoner flyktingar kan försvinna, nästan spårlöst, ur det allmänna medvetandet. Borde jag tycka att det är hoppfullt? Argumentationen skulle kunna se ut så här: samhällets förmåga att ta emot och integrera människor är större än vi tror, och kanske läker tiden trots allt vissa sår. Eller är det oroande? Historielöshet är aldrig bra, och obearbetade trauman kan ge upphov till otrevliga överraskningar längre fram.
Jag har skrivit en understreckare för SvD om flyktingvågen efter andra världskriget – En europeisk tragedi ingen talar om längre
_____
Efter andra världskriget fördrevs omkring 14 miljoner tysktalande människor från Östeuropa, där de hade bott i århundraden. Uppskattningar av antalet dödade varierar mellan 500 000 och två miljoner. Det Europa som förefaller normalt för dem som har växt upp efter kriget, med språk och folkslag prydligt ordnade i nationalstater – tyskar i Tyskland, polacker i Polen och judar ingenstans – är i själva verket ganska nytt.
Det har bara gått drygt 70 år sedan Europa hanterade de stora flyktingströmmarna efter andra världskriget, och det är förvånande att erfarenheterna från den tiden inte spelar större roll när migration diskuteras idag. Förklaringen kommer av sig själv när jag läser David Nasaws The last million: Europe's displaced persons from world war to cold war (Penguin Press). Historien om flyktinghanteringen är inte särskilt smickrande för någon part, och då är det enklast att glömma alltihop.
_____
På tal om migration finns det en detalj hos Nasaw som är värd att återberätta. När Hitler drog igång den tyska rustningsindustrin ökade inflyttningen till städerna, vilket ledde till arbetskraftsbrist på landsbygden. Kan ni gissa hur man löste problemet? Utan invandring hade Nazityskland inte klarat jordbruket. 1938–39, skriver Nasaw, bestod 43 procent av arbetskraften på landsbygden av invandrare, främst polacker.